Orlando Cepeda Autographed HOF Post Card JSA COA
You are purchasing a Orlando Cepeda Autographed HOF Post Card JSA COA.
20 in stock
Description
⚾🌟 LEGENDARY ORLANDO CEPEDA AUTOGRAPH SALE! 🌟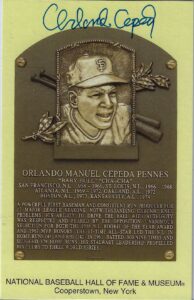 ⚾Calling all devoted baseball fans and collectors! 📣 We're thrilled to offer you an incredible opportunity to own a piece of history with our autographed Hall of Fame Post Cards signed by none other than the baseball icon himself, Orlando Cepeda!
Why Orlando Cepeda? 🌟 Orlando Cepeda, known as the "Baby Bull," is a Baseball Hall of Famer whose contributions to the sport are nothing short of legendary. Now, you can hold his authentic autograph in your hands, a true treasure for any baseball aficionado!
🖋️ Autographed Post Card: Each postcard features the genuine signature of Orlando Cepeda, a symbol of baseball greatness.
🔒 JSA Certificate of Authenticity: Rest assured that your collectible is verified by the renowned experts at JSA, guaranteeing its authenticity.
🏆 Perfect for Display: Whether you're framing it, displaying it in your sports room, or preserving it in your collection, this autographed postcard is a showstopper!
🎁 Ideal for Gifting: Looking for the perfect gift for a fellow baseball lover? Look no further – Orlando Cepeda's autograph is sure to delight!
Price Tag: 🏷️ This remarkable Orlando Cepeda Autographed Post Card is available for an unbeatable price of just $25! It's a steal for a piece of baseball history with JSA certification.
🚀 Order Yours Today! 🚀Don't wait another second to add this incredible Orlando Cepeda autograph to your collection. With limited availability, these signed post cards are in high demand and won't last long!